Online Course Review & Quality Standards (QM)
In order to ensure the quality in online courses, a nationally-recognized Quality Matters (QM) Rubric (summary version) is used to evaluate the design of online courses. A peer-review process is utilized in which two faculty reviewers and an instructional designer use the QM rubric to evaluate an online course and provide feedback and suggestions for improvement. The evaluation rubric includes eight major standards with forty-three specific criteria in the following areas:
Course Overview and Introduction
Learning Outcomes (or Competencies) and Objectives
Assessment and Measurement
Instructional Materials
Course Activities and Learner Interaction
Course Technology
Learner Support
Accessibility and Usability
Online courses that do not pass the QM review will be revised and improved until a passing evaluation is achieved.
Course Review Process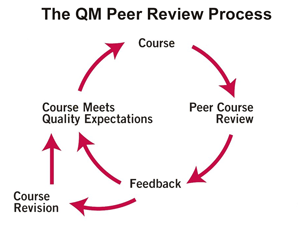 All online courses are currently required to be reviewed every three years or when significant changes are made to the course design. Academic departments are to initiate reviews. Faculty reviewers are selected from a list of approved reviewers and are compensated $250 for each review. Review results are shared with the Associate Dean, faculty developers and assigned instructional designers (where applicable), so that improvements can be made where needed.
A set of new OCR Process Recommendations are currently be discussed with Faculty Senate leadership and the AD Council, with plans to become effective Summer 2016.
Quality Matters FAQS
For questions regarding the course review process and quality standards, please contact:
Robert Lindsay
robert.lindsay@slcc.edu
801-957-3989